Want to learn more about model based systems and software engineering? Here are a variety of resources to explore.
Articles
Animation of synchronization rules
This is a set of animations to accompany the article above. You can also find it on Youtube.
Executable UML: A Foundation for Model-Driven Architecture
Stephen J. Mellor / Mark J. Balcer
This is the definitive description of the Executable UML modeling language that we use. Some tools directly support this language. Many other modeling tools can be customized to provide partial or complete support. We work with a variety of tools, but this is the one and only Executable UML we support.
Model-Based Development: Applications
H.S. Lahman
This book describes the overall methodology of model based development where models are translated into code.
Executable UML: How to Build Class Models, Prentice-Hall
Leon Starr
This is the 2nd edition of Leon's practical guide for modelers with an emphasis on building useful class models and analyzing system requirements.
This edition is out of print, but not for much longer! Leon is updating his book with all new content and an expanded scope to cover all aspects of Executable UML model development.
New edition for Q1 2016 / Digital and Print
Retitled to reflect expanded scope
How to Build Executable Models / Third edition
The new edition goes beyond class models to cover all aspects of the modeling language including domains, state models and action language with many supporting examples and useful patterns.
It will be available in both digital and print book versions in early 2016.
Advance excerpts will appear here as the work progresses.
September 21, 2015 – Latest Excerpts
Chapter 2: Attributes
Models
Here is a small teaching and testing example of a complete Executable UML model within a single domain.
It is for a contrived Air Traffic Control problem which has nothing to do with how air traffic is actually controlled!
It consists of a class model, two state models, and some domain functions and class methods.
For now the action language is psuedo-coded. It is at the correct abstraction level for an executable UML action language, but it does not conform to any standard and is only barely parsable. But hey, it's a start!
March 2015 UPDATE: Work is progressing on an exicting new and improved action language. Expect these models to be updated soon with the new language.
This is the same model described in the How to Build Articulate UML Class Models article listed above.
Here is the Elevator Case Study. This is a complete, executable UML model developed using an older version of the BridgePoint tool. It was last updated back in 2001 when we had it up and running with generated code linked to multiple user interface designs. But the case study is ready for a facelift, including a brand new action language, currently in progress.
Coffee Mugs
Find your executable modeling inspiration with our latest caffeineware available in the Model Integration Zazzle store. These are High Quality mugs with a nice glossy finish to keep them nice and shiny.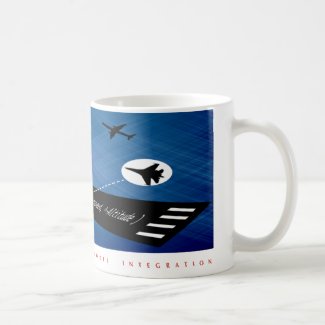 Grab Flying Objects with the Scrall Coffee Mug
by
Model_Integration
This could be the most awesome non-motorized item on your desk.